Tag Archives:
niteflirt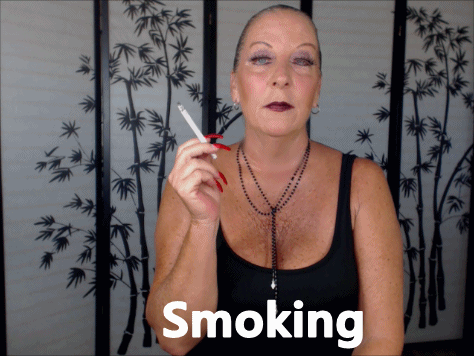 My new video is not so much about Femdom smoking as it is about control. Which as you know I AM all about control!
~ NEW ~ Goddess Smoking Femdom Control 
I have a long white menthol 120 cigarette for My smoking break. My deep cyber lipstick and My stunning cleavage all combine to make you weak. I know that you cannot resist, and I know you cannot resist stroking. The more you watch, you more excited you get! Mesmerized by My smoke, mesmerized by My long red nails. It IS very addictive as you have found out! Look at Goddesses cleavage, look at Goddesses long red nails as you watch over and over again! I have said it before Goddess knows ALL your secrets which gives Me so much control. Let My smoke surround you, My nails mesmerize you as I take you deeper into submission. All of this carefully planned. Simple and easy for Me to reel you in! No escape! I KNEW from the very beginning you did not stand a chance! Featuring Femdom, Mistress smoking, trapped by My smoke, inescapable, long red nails. cleavage, stroking to smoking, 120 Cigarette, mesmerized by My smoke, hooked, reeled in, deeper
TODAYS SPOTLIGHT FILE
My breasts are shown beautifully in this fetish video. Wearing a spiked push up bra with a crystal pendant nestled between My breasts, you will be mesmerized by My cleavage! My make up perfectly done and My long natural nails show up wonderfully as well as My deep colored lipstick! Featuring Goddess worship, cleavage, smoking, all natural breasts (AVAILABLE HERE ON CLIPS4SALE)
It's all about control MY control 
Dressed in a tight leather dress and thigh high leather boots, I explain to you what I want. To be in complete control of you…physically, mentally and emotionally. I will make you want what I want. Control and power. That is what I want. Control and power over you. I have methods to get inside your head without you even knowing it! I will find out what excites you, what scares you and intrigues you. Then I will use these things to control you mentally, physically and emotionally.
Over time you have been so conditioned to My voice. With My first words, you begin to relax sinking down deeper and deeper into trance. So many triggers have been planted in your subconscious. All of these triggers are designed to make you more you submissive. More obedient and with the phrase you must obey now planted you MUST obey, you WILL obey without question, without hesitation! (AVAILABLE HERE ON CLIPS4SALE)
Patent Leather High Heels ~ Black Stockings
I just love high heels! I simply can't get enough of them and nothing is sexier than black heels with a pair of stockings! In this video I have two different pair of black patent leather high heels that I especially enjoy. Now to decide which pair should I wear today?? I show you each pair and model each one with glimpses of My stocking clad legs and feet. Great views of My gorgeous legs, stockings and both pairs of high heels! Featuring high heels, leg worship, stockings, patent leather high heels, black stockings, stocking clad feet (AVAILABLE HERE ON CLIPS4SALE)
Become a devoted panty slave! Detailed panty instructions. Naked, you will follow My instructions for worshipping panties, feeling them over your face. Reciting mantras and taking deep breathes you will inhale the aroma and dedicate yourself to being a slave. Oh, no, you are NOT allowed to stroke your cock until given permission! Featuring Femdom, panty worship, panty worship instructions, panty fetish