Category Archives:
domination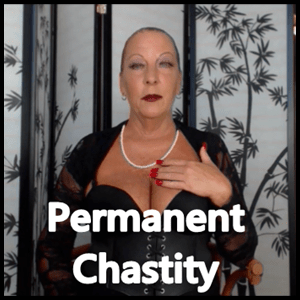 Being in control, exerting My dominance and emasculation are the most exciting parts of being a Mistress. Chastity especially permanent chastity is certainly one of those things.
View more of My views and recordings on chastity AND permanent chastity CLICK HERE
As promised My new video on permanent chastity is below!
As you know I talk about control alot! The more control I have the more exciting and erotic it is for Me. I also speak about your chastity and not only chastity but permanent chastity!There are reasons you will be let out for periods of time. For instance milking and also for measuring and fitting for a new device. Oh you will be needing a new smaller device as you begin shrinking over time! How emasculating! How controlling knowing what I am doing is making your manhood shrink becoming smaller and smaller! Featuring Femdom, chastity, emasculation, control
Today's SPOTLIGHT File
Dressed in a tight leather dress and thigh high leather boots, I explain to you what I want. To be in complete control of you…physically, mentally and emotionally. I will make you want what I want. Control and power. That is what I want. Control and power over you. I have methods to get inside your head without you even knowing it! I will find out what excites you, what scares you and intrigues you. Then I will use these things to control you mentally, physically and emotionally.
I am sure that you have seen the many pictures of Myself by or near a cage. I have found that cage training is an integral part of training My slaves. I will train you step by step to accept your place and bring you under My control physically, mentally, emotionally and psychologically. Cage training is another one of those steps!
It is so exciting and thrilling being a sissy! The panties, lingerie feel so good and the hormone therapy and testosterone blockers are taking effect! So fulfilling to see your breasts getting bigger, your ass rounder and your hips widening! Then it's the sissy shrinkage that you notice! The effects of chastity, hormones, blockers are all becoming noticeable! Shrinking, shrinking to tiny testicles and a clitty that is hardly noticeable! Features elements of Femdom, penis shrinkage, humiliation, sexually inadequate, hormone therapy /HRT, testosterone blockers, emasculation, emotional emasculating, permanent chastity, feminization, sissification
Prolonged chastity is something I truly enjoy! As the pressure builds day after day, My pleasure and enjoyment grows! Let's face it~ you are much better off when you are in chastity! All that wasted time masturbating, stroking even the time you take to think about when you can do it next! That is all taken away! All you have to do is surrender. All you have to do is surrender to Goddess. Surrender to Goddesses control. Surrender to chastity. The arousal as well as frustration growing day by day! So intense! Chastity makes your mind sharper and knowing you are doing it for Goddess is so important to Me. Being in chastity pleases Goddess and you want to please Me! Featuring Femdom, Female Domination, chastity, permanent chastity,