Category Archives:
slut training
One of the things I reiterate is that your body belongs to Me! For pleasure, for My amusement and for whatever I desire at any given time. Training you to be an anal slut is so exciting for Me for a number of reasons. One it certainly is emasculating which of course appeals to Me. Secondly anal training you so that you are able to take My strapon as another way to exert My dominance is very arousing. But most arousing is the knowledge that I am training you so that one day I will watch as you take real cock!
I know you certainly have the capacity to be an anal slut! With My training and instructions you will be stretched, gaped and more. I know just the toys to gradually make you take more and more. Longer, thicker until you can only cum intensely when you are stretched to the maximum! All the time you spend stroking and edging is now going to be spent being anally trained! My goals are clear. To prepare you for when I take you with My strapon and to be ready for the day when I introduce you to the bull! Download My training instructions and begin! Detailed information on toys and instructions on becoming My anal toy
In nature domination is most often established by sexual aggression. This type of sexual aggression for Myself takes place in the form of strapon submission. This exertion and reflection of My dominance is so erotic to Me! When I take you there will be no doubt who is in control, who is dominant and who is the submissive! Whenever I chose and for whatever reason, I will be deciding your position, which strapon , how hard and how long it will last! The emasculation as well as the psychological effects on you is what interest Me! With this act not only will I be exerting My power and control but also My sexual dominance.
Strapon Giving you what you Crave!
you have been begging Mistress. Begging for Mistresses cock. Well, I have decided that its time to give you what you need, what you have been craving. I will be exerting My dominance over you, using you, fucking you but first….on your knees and suck My cock. Dressed in a corset showing off My beautiful breasts, tight leggings and high heels, I sit and stroke and smoke…giving you what you need, what you crave (Video File)
I know that you have been eagerly awaiting another of My SHOCKING specials! This one is especially erotic to Me as I enjoy strapon and anal training! Strapon training is so effective at role defining. There is no doubt after a training session that I am in charge. That I am in control. This anal training is both powerful AND symbolic! This reflects My power and control in a relationship in a very clear way. I also enjoy the eroticism of wearing a strapon…very powerful and exciting! SHOCKING STRAPON SPECIAL: Consists of 6 videos and 3 audio MP3 files that equal almost a full hour of erotic strapon training!
One of My submissives who is quite involved in feminization crossdressing has been serving Me for quite a number of years. We don't get to meet in person as she has moved out of the area but we still have an ongoing relationship.
The effects that My training and repeated strap on training resulted in severe emasculation. As you can see from her thoughts that she expressed she had a very difficult time socially.
I have found that having My submissives keep a journal gives Me a lot of insight into their thoughts. It also serves as a reflection period for them. On her last trip to serve Me, I required her to keep a 3 day journal which was the length of her visit. This journal can be found here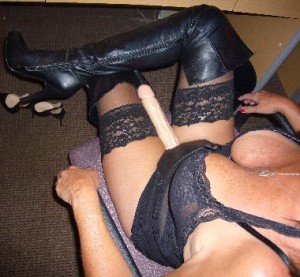 dana couldn't figure out how to leave a comment so she emailed her thoughts to Me
Silly gurl!
Comment:
I am glad that you enjoyed the journal, Mistress. I wanted to add that you took my virginity in June 2009, and I didn't start the journal until February 2010, so most of the training isn't even there. It was much more extensive than just the three months above. During the year I spent serving you in FL I didn't go on a single date due to the emasculating effect of the regular strapon training. It was amazing how calmly you went about it. Such a deep, serious, life affecting training method, and you did it so nonchalantly. So calculated and effective. I didn't know what I was getting into.
It changed my personality and interactions with women, and still affects me deeply even though I have been in another state for the last 2 years.
Hope to serve you again soon when I can visit.
Obediently,
dana
If you have a true interest in Feminization and Crossdressing, Visit Me here!