Category Archives:
dildo
Below is a diary that I required a submissive slut to keep while I was using strap on training to break "her" male ego and humble "her". This type of submissive slut training is quite a powerful tool. I have found it to be effective for changing a gurls thinking and emotions in many ways. The humiliation of being taken again and again changes her self esteem and masculinity.
CLICK HERE if you are in need of submissive slut training!
I found it quite an interesting read! I think you will too!
Goddesses submissive slut training for dana Diary
2-6-10: Went to see Mistress. Delivered dry cleaning, groceries. Had bloody marys and talked about politics. Arrived in black skirt and purple blouse. Changed into beach Barbie outfit and posed on the doll stand (3 poses). Mistress gave me a cheek flower tattoo. I requested a training session for tomorrow (Super Bowl Sunday). Mistress was wearing a black body stocking. She mentioned training me on the big leather bench and moving some mirrors. Writing this on 2-7. Soon I will have to prepare for training. I am going to see Mistress at 6:30.
I am also doing her laundry today. I was going to move the bed to the condo but slept late and didn't feel like it. Maybe I can finish the laundry and surprise her by bringing it tonight.
2-7-10: Had bloody marys with Mistress. Showed her TN pictures. Massaged her back.
She took me with the 6 inch strapon while I was bent over the large black bench. She sent me home locked, wearing denim skort and pink flowery blouse. I am so privileged to be Goddess's submissive slut!
2-15-10 Monday: Mistress gave me laundry and locked me. Flew in from TN today.
2-19-10 Friday: Mistress sent IM and told me she wants to train my pussy and have me be her doll Sat night.
2-20-10 Saturday: Caught up with moving stuff and sent a message to Mistress. She wanted to pussy train me. I arrived as dana. We had bloody marys and Mistress took me in a standing position over the black bench.
2-21-10 Sunday: Took Mistress to Shooters for lunch. Had drinks at the bar then lunch outside and talked about many outfits that ladies were wearing and if she would like them on dana.
2-24-10 Wed: Picked up laundry for Mistress after work.
2-25-10 Thurs: Washed laundry for Mistress at the condo
2-27-10 Sat: Delivered laundry to Mistress. Didn't feel well and went home. Mistress had asked me to bring maid uniform. Maybe tomorrow
3-2 to 3-5: Mistress is out of town
3-4-10 Thurs: Mistress sent IM telling me that p-training is coming soon. On Monday 3-1 she told me that p-training would be on Sat 3-6 when she gets back.
3-6-10 Saturday: I went shopping at Macys. Bought black stretch pants, then went to Walmart and bought 2 new blouses. Purple and pink. Went to see Mistress. Had bloody marys. Mistress took me in the standing position after pulling down my stretch pants.
3-7-10: Sent an IM to Mistress and told her that I wanted to go through p-training again for her, and actually wanted to be trained 3 days in a row again. Went to see Mistress wearing black skirt, white blouse, nude stockings, black shoes. It feels so good to be dressed so femme…Mistress is making me Her wife!  Mistress took me particularly aggressively and deeply.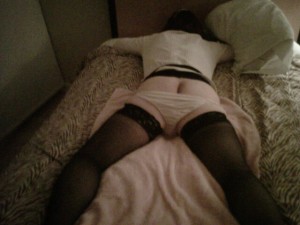 3-8-10 Monday: Went to see Mistress wearing denim skort and pink blouse. Mistress took me deeper and harder than she ever had before.
3-11-10 Thursday: Visited Mistress. Picked up laundry first and was trained again. Mistress thrust deeply again, and made me say several times that I love being her slut and being raped. I parked several doors down, and Mistress watched me do the walk of shame very slowly, with my head down, taking small steps.
3-13-10 Sat: Delivered laundry. Very busy with work this weekend.
3-15-10: Asked Mistress if it would please her to make formal plans to train me with the larger dildo. She said yes, when I catch up with work and can schedule a training session. I blushed and felt butterflies. It is scary and exciting that it might happen soon.
3-16-10 Tues: Bought black panties, garter belt, thigh highs today at lunch when I went to Sunrise to get the order I made online. Also picked up body stocking and anklet. Met the lady who runs cross-dress dot com. Looked at black mules to wear with my outfits and a black pleated skirt. Tried on pink blouse and chose 3x size. Can't wait to wear black ensemble for Mistress.
3-17-10 Wednesday: Visited Mistress at 9:15 PM for regular p-training session. Wore my new black garter belt, thigh highs, and panties with black stretch skirt and new pink blouse and black belt. Mistress reminded me of how my wardrobe has grown and what a girl I have become while she was training me.
Mistress said that next time I am not allowed to speak when I arrive next time and will immediately get in position for training.
She also said that she wants me to wear my virgin bride outfit when she takes me with the large dildo for the first time.
3-22-10 Monday: Went grocery shopping for Mistress and picked up laundry. Mistress locked me.
3-23-10 Tuesday: Washed laundry for Mistress
3-24-10 Wednesday: Silent Dana training. Overwhelmed. Have to comment tomorrow.
Arrived Wednesday night with laundry, wearing black skirt and pink ruffle blouse. New black lingerie – thigh highs, panties, and garter belt. Placed laundry on the chair, removed my clothes, put on wig and lipstick in complete silence, then assumed the position. Mistress positioned my arms, then pulled down my panties and too me roughly!  Mistress then pointed to the kneeling bench and trained me while She knelt on the pillow. She gave me a pad to put in my panties. I put my mike clothes back on and Mistress escorted me to the door. I left with my head down without ever looking at her face. Feeling so embarrassed. Humiliated.
3-25-10 Thursday: Arrived for silent training, but forgot KY. Mistress tried baby oil and began to take me. I said that it hurt. She was disappointed.
3-27-10 Saturday: Mistress took me for the first time with the 8 inch dildo. I wore white corset, thigh highs, lace gloves, white shoes, long blond wig. Mistress put the entire 8 inches inside me. She commented on the contrast between her black outfit and my white outfit. I am thinking about how I felt when her thighs touched me and I couldn't see the dildo anymore. So exciting. I knew this submissive slut training would change me. I am so shy and quiet around women now. Very docile.
3-31-10 Wednesday: Visited Mistress for silent pussy training. I wore black stretch mini and ruffled pink blouse with black thigh highs, garter belt, and panties. Put on wig and lipstick, assumed the position over the bench. Mistress raped me with the traditional dildo (6 inch). Mistress gave me a maxi pad (I bought a new package of 20 after work). I put on mike clothes and left in silence with head bowed. Mistress gave me library books and lingerie to hand wash.
4-8-10 Thursday: Mistress raped me wit the 6 inch dildo after I delivered laundry. I wore black skirt, white blouse, black belt, and black garter belt with thigh highs.
4-14-10 Wednesday: Picked up lingerie to hand wash for Mistress and went grocery shopping. Mistress locked me in chastity. Bought new black sandal pumps at the store in Sunrise.
4-15-10 Thursday: Mistress wants Silent Dana to visit tomorrow, but it looks like the truck will have to go in the shop Friday.
4-20-10 Tuesday: Mistress raped Silent Dana with the 6 inch dildo. I wore new denim skirt, purple blouse, nude thigh highs, and beige panties and bra. Mistress took me first in the standing position, then moved me to the kneeling bench. She knelt behind me on the cushion and took me again. I returned her hand washed lingerie. Mistress said that maybe I would be unlocked. She didn't unlock me. This submissive slut training is harder than I thought it would be!
4-21-10 Wednesday: Mistress took Silent Dana for the second night in a row. I wore black skirt, black thigh highs and bra with new black shoes. Mistress took pictures of me standing. I looked at the camera. Mistress said, "Silent Dana looks down." Mistress started p-training in the standing position, then raped me on the kneeling bench again. Mistress touched my cheek and said "good girl, dana" as I was leaving.
4-22-10 Thursday: Went shopping after work for Mistress with black lingerie. Delivered jam, apples, yogurt, water, cigarettes, cheese. Mistress didn't unlock me. It has been 8 days, and I sent Mistress a text saying that I had to use a safe word because I couldn't work and sleep. She is disappointed. I think this is the worse feeling ever in my submissive slut training.
4-24-10 Saturday: Visited Mistress for an emergency submissive slut training session. I felt like I was a disappointment the other day and wanted to please her. She took me in the standing position and the kneeling position. I wore denim skirt, pink blouse, beige underwear, and black pumps. Mistress said that I was wearing her favorite bra. Mistress thrust very hard toward the end of my training. Dana is alone now on Saturday night.
5-10-10 Monday: I was in TN since last Tuesday. I got back to FL today. Went shopping for Mistress and delivered groceries. Mistress gave me clothes to hand wash and some mail to take to the post office. She told me to send a text when I got home telling her when my last p-training was. She wants to train me again soon. She told me that she wants me to wear denim skirt, pink blouse, black stockings, new black sandals, red panties and bra for my next training, and that I will probably be raped, locked in chastity, and sent home to do laundry.
5-14-10 Friday: Mistress took me for the first time in 20 days. I wore denim skirt, new pink blouse, and red lingerie with black stockings. Mistress applied my new eye shadow. She locked me in chastity and sent me home with laundry. It is humiliating and embarrassing to admit how I enjoy my submissive slut training!
5-19-10 Wednesday: Delivered laundry to Mistress. Busy with work this week. I so need this submissive slut training.
5-21-10 Friday: Mistress raped me tonight. I wore black skirt, white blouse that I mended with needle and thread, Mistress's favorite bra and panties, and gold nail polish. I forgot my wig, and Mistress let me wear a pretty medium length brown curly wig that she had. We both thought it was pretty. I was moody and told Mistress that I didn't think I was ready to be taken. I changed my mind and said please. I thought she was not going to do it, but she suddenly told me to position the bench so that I could look directly into the mirror. It hurt a little at first but the discomfort went away quickly.
submissive slut dana