Niteflirt Phone Lines Goddess Natasha
It has been another great week on Niteflirt phone lines! Keep in mind that you can always send Me a quick message to see if I am online! I know this week on and off I was showing unavailable even though I was taking calls. Or My line was stuck on busy without My knowledge!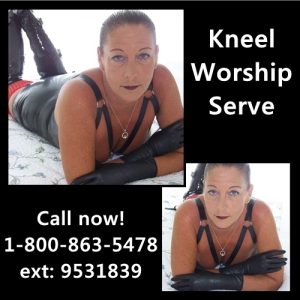 I had some great Niteflirt phone calls and some very popular downloads! My recording from last week Castration Day became a best seller. I received some terrific feedback on this particular file! In addition My video Faggot Exposure also made an appearance on the best seller marque!
My most popular video this week was Collared Marked and Branded which is a bit extreme (like I am) and it is one of My most popular videos of all time. As far as audio recordings I released some new additions but the most popular was The Power and Dominance of Goddess.
This week's Sunday Special is three of My Forced Femme recordings! This special includes My video Forced Sissy your New Uncomfortable Life and two audio files Forced Femme and Transformation Gas. It is a fantastic way to hear some of My plans at a truly special price!
I find the idea of manipulating or forcing you into feminization so erotic! Whether it is by mind control, bending you to My will or a transformation gas it is so exciting! These three files total over 40 minutes of forced femme by different methods!
Most Popular Video
As My slave I have explained many things that your position will entail. Chastity, servitude, complete obedience and of course you know that you will be permanently collared. BUT not only will you be collared but you will also be marked. Marked with My red and black personalized logo. To further reinforce My ownership, you will be branded. Oh, a tattoo might be able to be removed…but a brand? Well, bearing My brand will show the world that you belong to Me….forever.
Most Popular Audio
The Power and Dominance of Goddess 
Have you figured it out yet? I know you get glimpses of that elusive quality that makes Me so powerful. I have the ability to command simply with My presence. My vision of Female Dominance and Female Supremacy inspires and enthralls you. I know that you are beginning to crave. Crave My attention, crave hearing My voice as you listen to My voice and as you gaze at My photos and watch My videos. I know that your heart begins to pound when you receive an email from Me and you cannot wait to read My words! The nervousness and excitement that you feel when you call My Niteflirt phone line is so arousing!
Most Recent Releases
There is a lot that sissies need to know! One of the things is how to flirt! Acting seductively and learning the art of being a feminine flirt is not only required but needed! After all a good sissy needs to know how to attract male attention! It is all about seduction and that is what I expect from you! Everyone knows that a sissy is a receptacle for others sexual desires. Everything you need to know to be a successful sissy flirt! This recording spells out exactly how to act, body language and what to do to be a seductive sissy flirt!
It is so exciting to imagine being exposed. BUT I want you to actually be exposed! I am going to ensure that you crave this exposure and the more your humiliating photos appear the more exciting it is! Every moment that your information appears public, the greater the chances of someone you know finding out what you truly are! As each day passes those odds go up exponentially. One of the main purposes of encouraging you to engage in this risky behavior is for My amusement and enjoyment!
With My usual smile and dressed seductively in a cleavage baring red dress I describe what your testicles would undergo before being removed! I have such brutal plans of cock and ball torment that will have you writhing in pain eventually begging to be castrated. By the tone of My voice and the smile on My face you KNOW how much I am going to enjoy this! While you are restrained I will use My sexy feet rubbing them against your soon to be removed balls as you are unable to control yourself and become erect!
THEN such suffering and brutality with kicking, punching, nails driven through your scrotum and teased with an elastrator AND burdizzo! I show you My burdizzo which is so intimidating and also describe using My elastrator on you. It all begins with you being restrained and completely immobilized. Naked and vulnerable I begin your humiliation and dehumanization with shaving your head and then the sadistic torment begins!