Tag Archives:
femme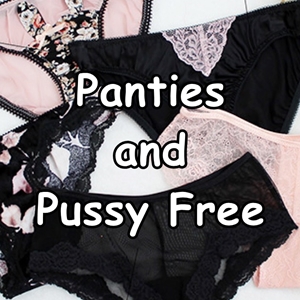 My new audio file is a reinforcement of not only feminization but the reality of being pussy free. Panties Pussy Free is My continuation of constant reinforcement.
I am sure you realize by now that all of these steps in your sissification have defined goals and more than one goal. However the main goal is to keep you pussy free. For instance the panties because I know you love the panties and are so obsessed with how erotic and emasculating, they are you become known as a panty wearer! Permanently in panties is just the first step in ensuring you are pussy free! Not just secret panty wearing or online panty shopping but to make sure that it is very obvious that you are in panties and exposed as a panty wearer! The VPL visible panty lines that show or the trips to the waxing salon. The feeling of being waxed is so erotic and ensure that the panties feel even better against your smooth skin! I want everyone at the salon to know that you are in panties! Undressing for your waxing and placing your panties in full view so that the Woman aesthetician sees them and tells everyone! Believe Me she will let the other Women at the salon to know! Featuring Feminization, sissification, panty reinforcement, panty exposure, waxing, pussy free reinforcement, emasculation
TODAYS SPOTLIGHT FILE
I know that you want to be a good girl! The only way good girls get to cum is by having a sissygasm. This is exactly how I am going to train you! So that the ONLY way you orgasm is with a sissygasm! Step by step I am going to guide you so that you are properly trained and your sissy pussy is trained to ONLY orgasm this way. No, no! No touching your clitty! I am going to train you for a hands free sissygasm! A REAL sissygasm! Now be a good girl and listen closely! Featuring sissification, sissy training, sissygasm
I KNOW you want to be a good girl for Goddess! Following all My instructions and being obedient for Goddess! It is time to slip into panties, your sluttiest lingerie and make sure you have a bottle of poppers. Each time you inhale you get more and more aroused, panties getting wetter as Goddess instructs you! Opening you up as you crave to be filled! Sniff, put your hand between your legs and ride that cock for Goddess! Featuring Femdom, good girl, good girl training, anal training, poppers training, obedient girl
As much as My sissys love serving and pleasing Women I also train them for serving a Master! There are a number of reasons including learning obedience, acknowledging their place and of course because it is exciting to Me. Not only is it exciting but the level of control to not only feminize you, train you and make you obedient but to further your emasculation through submitting to a Master. At My command, and for My desire to train you is one of the reasons for gloryhole excursions, gay bath houses and gay leather bars. Featuring Femdom, sissy training, sissy submission, serving a Master , cock sucking, sissy cock sucking, emasculation
It feels so good being a sissy! So many things to enjoy and things that make you feel so feminine! Embracing all of it from sissy hypnosis, to feminization and sissification including all those wonderful toys! I am quite sure I know exactly how it started! First a pretty pink vibrator that felt so good in your sissy pussy. Then what sissy could resist the sparkly jeweled plugs that look so femme especially in pink or purple! But as your toy collection grows , so has the sizes! Getting bigger! Getting thicker! So many types and so many varieties. Expanding, squirting, vibrating and they all feel so good. Playing, playing and training your sissy pussy for hours on end! But always want more and more and then the craving for real cock..real big cock! As you watch all those sissies taking cock you want it! A sissy like you needs it; to be spread and bred because you ARE a sissy size queen!