Femme Reinforcement Goddess Natasha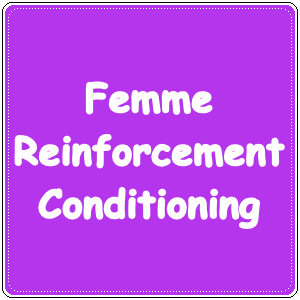 I have a busy day of filling custom requests and updating My blogs. My phone and chat lines are now on. My new audio is a Femme Reinforcement and conditioning for feminization and sissification.
~ NEW ~ Femme Reinforcement Conditioning 
It pleases Me to see you not only becoming more feminine, but I know that you are so much happier! Happier and content knowing and accepting your place as a sissy. Accepting that this IS an integral part of you, accepting that this IS a part of your personality! I know that your life is so much more fulfilling now that you no longer hide behind a masculine facade! It was a facade we both know it! It never felt, right did it? Because it was not right, it was not right for you! But now you are on the right path. A path of feminization, of sissification of acceptance and being a good sissy, a proud sissy. I am NOT talking about just the panties, lingerie, sexy bra and panty sets. All of those things are just the trappings of femininity! I want so much more for you! I want you to think like a sissy. I want you to act like a sissy not just dress like a sissy! Featuring Femdom, feminization, sissy conditioning, feminization reinforcement, emasculation
Today's SPOTLIGHT File
Not only do I want you in chastity but I want you in a micro cage! Rather than having a penis you will have a clit! It will be the most natural thing in the world to be in chastity as your "clit" shrinks even more! And it will shrink! There will be no hope of an erection or cumming and you will have to accept that your clit is locked up forever. Of course the next step will be pretty pink panties! Trusting Mistress you know that it is for your own good! Featuring Femdom, chastity, sph, small penis humiliation, feminization, panty training
I have many goals for you as My sissy and one of them is to turn you into a cum loving sissy! Training you to not only be a cum lover but after your first taste to crave it! Each time you swallow a load of cum it reinforces just what a sissy you are! Each time you feel that hard cock in your mouth your emasculation increases and sissification intensifies! As I have told you again and again a good sissy sucks, a good girl swallows! Featuring Femdom, sissification, sissy training, femme, femization, sissy humiliation, emasculation
I have such plans for you! A complete transformation into a juicy thick curvy bitch with large boobs and a big ass. A ass that is just begging to be grabbed, taken and used. Wide hips that are perfect for breeding and built for rough submissive sex with a dominant bull. See I have banning any type of protection and you will ONLY have bareback sex from now on! THIS will ensure that you are properly bred like the dirty bitch you are! Every day a different man will be taking you as I watch, direct and film each breeding session. This will go on and you will be violated and taken over and over until you are bred!
Exposing your Sissy Addictions 
Slipping down and I want you to relax as I guide you to become the sissy cross dresser you are and as I guide you to increasing your desire to become exposed! It is all you think about, all you desire and these feminine feelings and need to be exposed are all consuming. Over and over again you will listen to this recording, reinforcing your need for stockings, panties and EXPOSURE! Every day you become more and more addicted to the panties, the stockings… the first thing you put on in the morning! The panties feel so good…the stockings on your smooth legs….your legs freshly shaven. Then there is the exposure! Imagine it! Photos of you are all over the internet! Now you don't have any control of WHO sees them! Day by day you become more addicted to the attention, addicted to your photos being seen! Day by day the craving for everyone to see you in your panties, in your stockings grows and intensifies! THIS is what you want ~ you WANT everyone to see you especially people you know. All of these things are so exciting and so addictive! The more you do them, the more additive they are! Nothing else is this exciting! Nothing else is this arousing! EXPOSURE!