Tag Archives:
clips4sale
This past week there has been a lot of inclement weather and not much of a chance for outdoor activities. Since I received a new laptop I decided to transfer some files. Imagine My surprise when I came across quite a number of videos from years ago! I am quite thrilled to bring you some videos that have never been released in digital format!
CLASSIC GODDESS NATASHA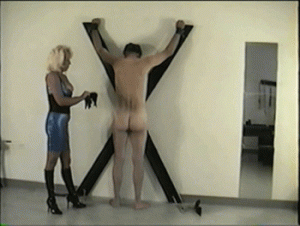 This particular video has not ever been released in digital format! In fact, it has been many years since it has been released! That being said this is a Classic Goddess Natasha video that was taken from VHS and converted. I am a young hot blonde with a streak of cruelty for playing humiliating games!
Dressed in a tight blue latex dress with a waist cincher and knee high boots, I slip into a pair of leather gloves. This lovely latex dress shows off My figure including My gorgeous breasts. Then I explain the "switch" game. Using My riding crop liberally I then take My slave down from the cross. Now it is time for one of My favorite humiliation games. As he stands with one finger in his mouth and one inserted in his ass, I slap his ass with the riding crop. Switch! Now its time to switch fingers! My slave stands in this humiliating position as I berate him and speak about his lowly position. Time and again I crop him and he switches fingers. Now to kneel still with fingers in place!
With his wrists still cuffed, I am kind enough to bring him a bowl of water. Of course, it is a dog bowl for him to drink out of. After all, I want his mouth clean for licking My boots! The verbal humiliation continues as he is scolded for being an ignorant male.
Now its time for a hood and back up on the cross, back to the wall. Another game I call "pluck". I pluck his body hair out and he has to guess how many. When he is wrong which of course he is the first two times, I slap his cock with the riding crop.
This Classic Goddess Natasha video in full is approximately 30 minutes. However, I have made it available in two parts. Part I and Part II can be found on My Niteflirt listing just CLICK HERE.