Tag Archives:
strapon
My best Femdom video this week was so popular that even I was surprised! While this particular video is not a new release there was a definite surge in popularity!
It is hard to believe that the summer is almost over! Knock on wood that South Florida has managed to escape hurricanes or tropical storms so far!
This week was busy with not only phone calls but recording quite a few custom recordings and custom videos. In addition I had a number of personal slaves in and out performing a variety of duties and chores.
Currently I am working on another SHOCKING Series of recordings since they have been so well received and I have gotten some terrific feedback.
They are still very much in demand. The three currently available are Mind Control, Chastity and Stockings and Stilettos.
My two most popular audio files were Sexual Dominance with a close second of My Cuckolding recording I love you but…If you haven't yet downloaded them I encourage you to take a look!
My most popular and best Femdom video by far this week was Forced Sissy your New uncomfortable Life!
As always I am so appreciative of your patronage, ideas & suggestions as well as your feedback!
Best Femdom Video of the Week
Forced Sissy your New Uncomfortable Life 
This best Femdom video of the week is a description of a new life for you! Come and kneel in front of Me and let Me tell you all about your new uncomfortable life! Everything is about to change! Tight, restrictive garments, chastity device, high heels and heel locks are just a few ways that I will be making you uncomfortable…making you suffer! Working hours each day on your feet, your feet that are locked into high heels…oh, did I mention a tack inside? Maybe a few pebbles? THIS is only the beginning!
THIS WEEK'S RELEASES!
Have you noticed that you are losing control? The more humiliation and degradation that I heap upon you the more you crave it. The more you need it. There is your public persona that you present. Known as an alpha male BUT I know the real you! I know that deep inside you are a filthy whore. A nasty bitch who needs to be degraded, humiliated and emasculated. The more humiliation that I subject you to the more excited and aroused you get. Every name, every humiliating task makes your cock harden until you are dripping.
It is a bit frightening isn't it? I know what you really are! It's not the well respected member of the community that everyone THINKS you are! Not the alpha male that is in charge, making decisions and giving orders! No, what you really crave is to be degraded. To be humiliated and made to perform the most perverted acts! It is so arousing and exciting to think of being used, being called derogatory names and revealing your deepest, darkest desires! Oh you have always thought you were "straight" but things have certainly changed! Those thoughts and fantasies about sucking cock are making you question your sexuality! Be assured that I WILL be encouraging those thoughts and fantasies ingraining them in your mind!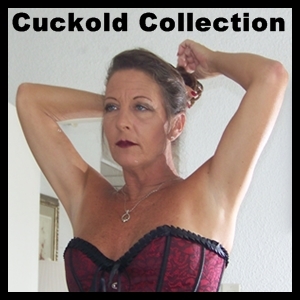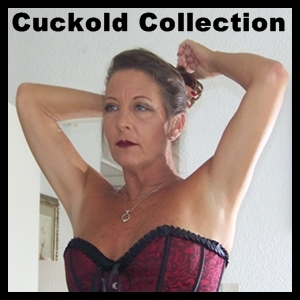 This contains My erotic cuckold files! As you may or may not know I am a Lifestyle Cuckoldress. I am a member of The Goddess Manor which is a private cuckolding group. This collection of cuckold recordings includes My latest best seller Cuckolding I love you but!
I know that you are a bit nervous! I have told you that strapon training WILL be part of your training! I have made it very clear! Even though you have always thought the sight of a Woman with a strapon between Her thighs is erotic, you have been hesitant! But I know that I will have you begging to be taken. Eager to be fucked and looking forward to it each time! Includes a sexy set of strapon photos!