Category Archives:
worship
Strapon worship can be quite erotic for Me. One of the reasons is that it is a powerful tool for emasculation. Secondly I thoroughly enjoy the role reversal. It is quite an exchange of power!
There is also something so dominant and powerful about playing with larger strapons. The idea of making a submissive worship an extreme size strapon is exciting. It can also be quite a mind game!
Strapon worship and strapon training are two of My favorite roleplays on Niteflirt. I relish describing exactly what I will do to you! Whether it is a punishment fucking or a long sensual session where I look into your eyes as I penetrate you either scenario is hot!
This past week I was playing with a submissive and decided to film a few of the things we did…or I did to him I should say! It was very amusing for Me….humiliating for him!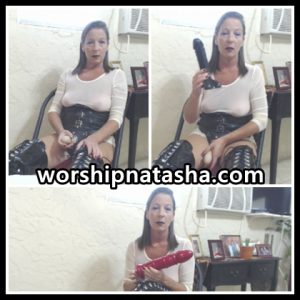 One of My latest strapon worship recordings touches on Sexual Dominance. It may be something you never thought of!
In nature domination is most often established by sexual aggression. This type of sexual aggression for Myself takes place in the form of strapon submission. This exertion and reflection of My dominance is so erotic to Me! When I take you there will be no doubt who is in control, who is dominant and who is the submissive! Whenever I chose and for whatever reason, I will be deciding your position, which strapon , how hard and how long it will last! The emasculation as well as the psychological effects on you is what interest Me! With this act not only will I be exerting My power and control but also My sexual dominance.
HOT NEW VIDEOS!
I will be adding more so be sure to bookmark My studio!