Forced Feminization Goddess Natasha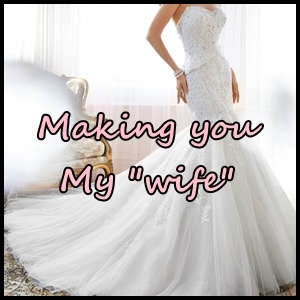 My most popular video this past week was Stroke and Surrender. Breeding Day and Cock Control Trigger were My most poular audio recordings this past week. One of My many forced feminization Goddess Natasha series of Making you wife recordings appeared on the most popular marque on Niteflirt.
Appearing on the Niteflirt Marque
As you know the eroticism of your complete transformation into My wife is My ultimate fantasy! As I was sitting here this evening, I am imagining the beginning! A detailed plan that I have to transform you into My wife in the next 365 days. Not only will you be trained but every aspect of your life and feminization will be strictly controlled as you sink deeper and deeper into femininity! Featuring Femdom, feminization, forced feminization Goddess Natasha, emasculation, transformation  (AVAILABLE HERE ON CLIPS4SALE)
Most Popular Video
Mind Control Stroke and Surrender 
Dressed in an off shoulder, tight fitting dress, make up perfectly done and My pendant glistening My voice relaxes and arouses you. As you listen I instruct you to go deeper as you stroke to My voice, My deep blue eyes. Becoming My property and belonging to Goddess. My control commands you as I prepare you to surrender. Ready to submit and every word taking you down and becoming more aroused. My voice and every gesture of My elegant hand hypnotizing you bringing you further under My control. My voice is so powerful. The sight of Goddess is so powerful. My commands and control are so powerful. My voice tells you that you must obey Goddess. My voice tells you that you belong to Goddess. My words play over and over in your mind! It is so exciting and arousing to be under My control. From day one I always knew that you would belong to Me. That I would be controlling you as you fell deeper and deeper into submission and servitude. Yes, you belong to ME!
Most Popular Audio
The day you have been waiting for is finally here. It is your breeding day. I have been preparing you for this day for some time and as you see the breeding stall you realize it is about to become a reality! Restrained, helpless you will be spread and bred as I like to say. Each BBC (of course all are big black cock) depositing a load of hot cum to make sure you are properly bred! Used over and over as the day turns into night! Featuring forced bi, BBC, emasculation, breeding  (AVAILABLE HERE ON CLIPS4SALE)
Just a click and hearing Goddesses voice and you feel so content and excited! Now you are right where you belong ~ under Goddesses control, listening to My voice. Absorbing My words. Eager to obey. Eager to submit. By now you know what I want. Total and complete control. All it takes is the sound of My voice for you to feel so aroused. So excited to hear My words. So excited to follow My commands. Every word I speak to brings you deeper under My control. Throbbing from a single word. A single trigger to make you throb exciting you each time I say it..and still you want more. Featuring Femdom, mind control, masturbation control, erection control, arousal trigger (AVAILABLE HERE ON CLIPS4SALE)
Recent Releases
It all becomes a vicious circle. The panties because you cannot resist them. So erotic slipping into a pair of panties, shopping for more panties even engaging in a chat about panties on web sites. The panties lead to masturbation, more masturbation and you are unable to resist! Then the stroking and masturbation sessions are fuled by all that porn! I know what you are looking at! Big Black Cock! Becoming obsessed with BBC. These three things, panties, chronic masturbation and the lust that you feel for BBC are what fuel your fantasies and you do not need or want anything else! It is all about the panties, chronic masturbation and BBC and it is conditioning you for a pussy free life! Featuring Femdom, panty reinforcement, chronic masturbation, BBC, pussy free, forced feminization Goddess Natasha, feminization (AVAILABLE HERE ON CLIPS4SALE)
Believe Me you will feel better if you just admit what you are! Accept what you are! It will actually to feel GOOD to admit it! Femme fag boy! Shaving and then slipping into panties is so erotic. Thinking, planning what you are going to do. Watching porn as you squeeze your legs together, rubbing yourself until you cannot resist it anymore. All you can think about is cock. The feel of a cock in your hand. The taste of cock in your mouth. On your knees for cock, being used over and over again. Oh those men know exactly why you are there! It sends a thrill when you are called a faggot! It only makes you want more! When you act like a faggot you will be treated like a faggot. Being face fucked as you choke and gag just reinforcing that you are exactly where you belong! A faggot who craves, NEEDS cock! Something you knew from the very first cock you ever tasted! Featuring Femdom, forced feminization Goddess Natasha, humiliation, faggot reinforcement, emasculation