Dollification Transformation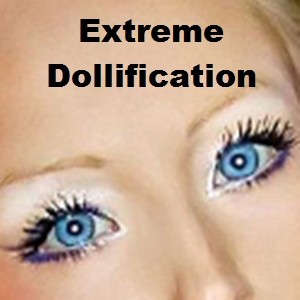 Transformation is one of My erotic interests especially if it involves brainwashing or other tools such as milking machines, visuals and of course My seductive voice! My latest is dollification transformation which involves all of these things. Whether is is transformation into feminization, Making you My wife or bimbofication or dollification I enjoy it all!
~ NEW ~ Dollification Perfect Little Dolly 
Captivity has changed you and I KNOW you are getting closer to being completely broken! These weeks of Chasity have pushed you past frustration and weeks of control have left you on the edge of complete surrender. However there are still those vestiges of your male ego that must be destroyed. The physical aspects of your breaking is not all I have planned. This new plan is going to ensure My total control over you! Completely brainwashing you and making you believe what I want you to believe! With My tools, with My experience it is only a matter of time before you are broken! Not only broken but transformed into My perfect little dolly! An unremovable hood, My voice constantly in your ears and the images that flash and are imprinted in your mind will now be a constant! Unable to close your eyes, it is a parade of human dolls! Feeling My hands between your legs I attach a milking machine that will be controlled by Me! Featuring Femdom, breaking of a slave, transformation, dollification, milking, orgasm control, femskin, orgasm frustration, dollification transformation
Today's SPOTLIGHT File
One of My favorite fantasies is transformation …Transformation Gas… It seems like a perfectly ordinary appointment at the dentist. Yes, there is a different very sexy hygienist but everything seems just the same…until…Reclining in the dental chair, the hygienist tells you She is now using a special gas to relax patients which you agreed to. As you begin to breathe naturally and evenly, you start to feel very strange…yes, you are relaxed and feeling wonderful but you find yourself answering Her very intimate questions. Powerless and out of control, you begin revealing your secret fantasy. Things you have never told anyone. As She starts suggesting thoughts and desires telling you how your mind and body will be transformed it all seems perfectly natural
There are so many things that I plan to do to permanently and irreversibly feminize you! Head to toe, inside and out, your masculinity erased forever! Leaving you feminized permanently and forced to live as I desire! Carefully planned from the very beginning as I lull you into a false sense of security with changes that slowly become more drastic! Featuring Femdom, forced feminization, hormone therapy, permanent feminization, good girl, extensions, totally femme
Dollification ~ EXTREME Rubber Doll 
This rubber doll fantasy turns you into nothing but a rubber object encased head to toe in rubber with no sight or speech. Completely immobilized not only in rubber but in addition a neck corset, bondage mitts, ballet boots and more. From now on you will be forced to endure torments and restrictions being brainwashed as My voice plays inside your rubber hood! Permanently forced to live as a rubber doll!
As your eyes slowly blink open you are confused. Trying to move your arms, legs you discover you are totally immobilized. Unable to speak or move your eyes dart around the room. As you hear the click of high heels you see the room is filled with Women carrying clipboards. The Women pay no attention to you as they watch the computer screen and discuss the changes that will be made. As you listen in terrified horror the first step is your plump bimbo lips. That is only the beginning as you are completely transformed from lips, hair, round ass and of course large breasts! The erasure of your memory and mind as you become bimbo 122! Their goal? The perfect bimbo! Featuring bimbofication, bimbo transformation, objectification, experiment