Fetish MP3 Releases by Goddess Natasha
My new fetish mp3 recordings have kept Me very busy this week! There always seems to be alot going on both real time and online! I have had a number of submissives from out of town here to serve and have also been busy recording new files.
As you know My recordings especially My fetish MP3 recordings are very popular and once again I have had three of the top recordings on Niteflirt! These top three are Life as My Wife, and two of My shocking series Mind Control and Stockings and Stilettos! My top video this week was Fantasy of your Life which is not a new release but there has been quite an interest in it.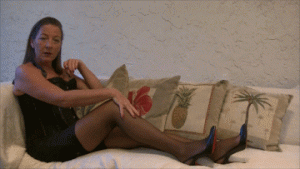 Reclining on My couch with a sexy black corset, very short skirt, thigh high stockings and high heels, I know all about your fantasy. Yes, this fantasy of your life where you imagine serving Me. You imagine submitting to Me. In your imagination, you leave your boring vanilla life behind and surrender. Oh yes I know. you spend a lot of time fantasizing about what your life would be like serving Me. you call Me, listen to My recordings and buy My videos…all the time imagining what it would be like to completely surrender to Me.
This week's Fetish MP3 releases!
Tell Me again how much you love big cock! Bigger is better! That's your motto! I know your hands start to sweat and your mouth waters when you see those big, thick delicious cocks! Now repeat after Me…you are queer for cock! Featuring humiliation, Femdom, verbal humiliation, emasculation
In nature domination is most often established by sexual aggression. This type of sexual aggression for Myself takes place in the form of strapon submission. Furthermore this exertion and reflection of My dominance is so erotic to Me! When I take you there will be no doubt who is in control, who is dominant and who is the submissive! Whenever I chose and for whatever reason, I will be deciding your position, which strapon , how hard and how long it will last! The emasculation as well as the psychological effects on you is what interest Me! With this act not only will I be exerting My power and control but also My sexual dominance.
These are 30 minutes fetish mp3 recordings that highlight one of My favorite activities. ~ erotic bisexual action Two videos and two audio files.
Part of your cock sucking training will be throat training. This training will allow you to be deeply and thoroughly throat fucked. I am so going to enjoy seeing you throat fucked! This aggressive deep throat fucking will bring tears to your eyes and yes, you will be gagging. One of My favorite postions is you on your back as I sit on your chest with your head hanging over the couch or bed! As a result you will be helpless and vulnerable your throat wide open for every thrust! There will be no doubt that you are My bitch after you have been brutally throat fucked! Watching you being throat fucked is just another way for Me to exert My dominance and control and reinforce your submission! An extremely erotic fetish mp3 recording!
The craving you have for ownership is becoming stronger and stronger. The need and burning desire to belong to Me is growing more intense with every passing day. Furthermore, realize that you cannot be happy or content until you surrender and become Mine! I knew long ago that it was only a matter of time. After all, you were meant to be My slave, meant to be owned!