Domme Femdom Goddess Natasha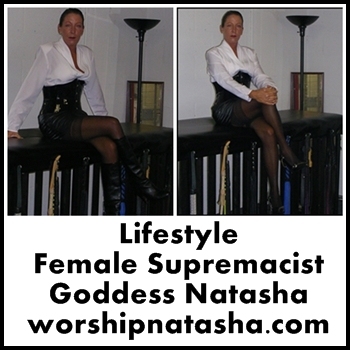 This past week My most popular video was a worship video featuring one of My sheer white bras. My most popular audio recording was Watch Porn and Rub your Nub. My audio file What makes a Good Sissy appeared on the marque for most of the week.
Appearing on Marque
What makes a good sissy? More importantly what makes a goody sissy for Me? This new recording gives you ten of the ways you can be a good sissy and please Me. By now you surely know some of them such as cock worship, anal training and humiliation! This is the start of being a good sissy for Me! Featuring Domme Goddess Natasha
Most Popular Video
This sheer white lace bra is the perfect focus for My all natural breasts and worship! As I run My elegant hand along the lace edges you are treated to a view of the outline of My nipples. I know that My breasts make you weak and unable to think clearly! This is a true worship video designed to make you weaker, further enthralled with My 36C breasts and My long natural nails! Featuring Domme Goddess Natasha
Most Popular Audio
These aren't exactly stroking instructions! Why? Because you don't have enough to stroke! There isn't even enough to wrap your hand around! It is more like rub the nub! There isn't anything you can do about it and you have been disappointing Woman for years! Oh maybe once a Woman said that size doesn't matter but I am sure she was quickly gone! Frankly I don't think you should even date! After all, what is the point? Featuring humiliation, small penis humiliation, sexual inadequacy, mock sympathy, masturbation humiliation
Recent Releases
~ NEW ~ HOOKED! Financial slavery
I have made sure that you are so hooked! I am loving every moment of it! So exciting! So arousing! By now you simply cannot get enough. Cannot get enough of My smoking. Cannot get enough of My control as I reel you in . There IS no stopping it now! No escape. I can see that you are well and truly hooked! Everything triggers you now! My smoking, My red lipstick and of course My gorgeous breasts. So you keep clicking, keep tributing becoming more of a financial slave. At this point it is time to give in to those urges to click and send because nothing else feels so good as to please Goddess. Nothing else feels so good as you click and get more and more excited, more and more aroused. Going deeper, sinking deeper into total surrender! I have made sure that you have become a victim of your own desires and a victim of what Goddess wants! My smoke is like a trap as it swirls and surrounds you making you crave more and more! Featuring Femdom, smoking, financial slave, financial slavery, surrendering, smoking fetish, red lipstick, long nails, cleavage, all natural breasts, seductive smoking, long exhales Featuring Femdom, financial domination, Domme Goddess Natasha
This mind manipulation video is designed to erase unwanted thoughts and eliminate any fears or apprehensions! My seductive voice, all natural cleavage enthrall you with each gesture of My beautiful hands. Washing your brain. Featuring Domme Goddess Natasha, Femdom, mind manipulation, trancing, mind washing, cleavage, hand gestures, long nails, long red nails (AVAILABLE HERE ON CLIPS4SALE)
It all started as a harmless fantasy while you watched porn. While watching vanilla porn eventually your eyes and interests strayed to cock. Then progressing to gay porn, then BBC porn. All harmless. That is what you kept telling yourself. Stroking to all that cock, fantasizing as you watched and then unable to resist cock. That big black cock that brings so much pleasure. The time came when you HAD to experience it telling yourself it would just be that one time. Just to try it. Just to see what it would be like. But all it took was that one time of sucking big black cock. Now it is all you can think about. Now it is all you want.
I know it can be overwhelming with the amount of files that I have available! So I have been making it easier to find files based on your erotic interest! Simply click on the link below that matches your interest!
Female Supremacy The slave Farm