Domestic Discipline Goddess Natasha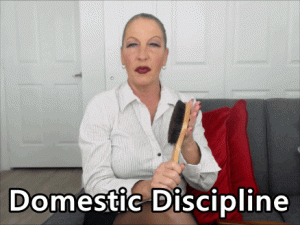 My most popular video this week features Domestic Discipline and this weeks most popular audio was Becoming My slave for Life. In addiction My audio file Addicted to Porn appeared on the marque for most of the week.
Appearing on Marque
I know it and you know it ~ you are so addicted to porn! you watch hour after hour and video after video searching for just the right image for you to cum too! Oh you don't bother dating any more…you just stroke and edge for hours and hours. This is what your life is now like! Featuring elements of humiliation, edging, stroking, femdom (AVAILABLE ON CLIPS4SALE HERE!)
Most Popular Video
I am and always have been a firm believer in the importance of Domestic Discipline. I feel it is an essential part of a Female Led Relationship. The rules should be made clear and even clearer the consequences when the rules are broken! Some rules when broken are punished severely such as direct disobedience. I also believe the most effective way to administer discipline is bare bottom over the knee. This puts the male in both a vulnerable and humiliating position. It is also humiliating to be required to have trousers then underwear pulled down as the male stands and acknowledges his transgressions. This humiliation is also an integral part of the discipline! (AVAILABLE ON CLIPS4SALE HERE!)
Most Popular Audio
The privilege of being a slave for life is not offered often or easily. Certain things are required and must be proven to be considered for such an honor. The dedication, devotion and sacrifice that must be displayed should be kept in mind at all times. No sacrifice should be too great. The devotion you show should be apparent to anyone who sees you serve and the dedication endless. Of course, your loyalty will be unwavering! This is your destiny. Not just a session or online slave but the permanence of being owned for life! (AVAILABLE ON CLIPS4SALE HERE!)
Recent Releases
~NEW~ Mind Control Triggered *SNAP* 
The feelings wash over you at the sight of Goddess. Conditioned to My voice and the wave of My hand, seduced and enthralled exactly how I want you! SNAP! As you go deeper, it seems natural to follow Goddesses commands. Let go of all inhibitions and know that all that matters is Goddesses voice, all that matters is Goddess. Goddesses wants, needs and desires you want only to please Goddess. Goddesses breasts, long red nails and the glistening pendant all enthrall you. Featuring Femdom hypnosis, trigger, finger snap, erotic hypnosis, long red nails, hand gestures (AVAILABLE ON CLIPS4SALE HERE!)
Going to the gloryhole IS so exciting! The excitement of the anonymous cock sucking, how big the cocks will be, how many cocks will you get to suck! It can be hit or miss as far as how busy it is and sometimes you strike out! However with My advice and doing what I tell you will not only make you a gloryhole slut but take you BEYOND being a gloryhole slut and being the ultimate glory hole slut! Featuring Femdom, humiliation, encouraged bi,emasculation (AVAILABLE ON CLIPS4SALE HERE!)
~NEW~ Femdom Relinquish Control 
It is virtually impossible to resist a video where I am not only discussing controlling you but My gorgeous all natural breasts are featured in a sexy push up bra! Control is something I talk about often! It is all about My control over your thoughts, desires and actions. As a matter of fact control is the most important, most satisfying and most erotic part of domination for Me. The deeper My control the more exciting it is. I realize how difficult it is to relinquish control but you will! In order to submit to Me, to surrender to Me and to serve Me you will relinquish control! Featuring Femdom, domination, submission, servitude, cleavage, long red nails (AVAILABLE ON CLIPS4SALE HERE!)
~NEW~ Smoking slave Lipstick Cleavage 
First I apply another layer of smooth creamy lipstick and then reach for a long menthol 120 cigarette. Lighting it , so smooth, so elegant and so addictive! I know you love My smoking! Dreaming of being My smoke slave, how exciting it would be! Lighting My cigarette knowing that everyone is watching Me smoke. Completely mesmerized by My smoke and smoking! Ensuring I always have a full pack of cigarettes and full lighter. Knowing that if I ever ran out of cigarettes you might not be allowed to go out with Me! Perhaps I decide to expand your smoking slave duties. Then I decide to expand your duties even more. Slowly but surely you ARE going to develop all sorts of fetishes! It all started with smoking but with My manipulation I am turning you into more of a servant and slave! Oh yes, what I do is very deliberate and carefully planned! Featuring smoking, smoking slave, smoking fetish, long red nails, lipstick, lipstick fetish, cleavage (AVAILABLE ON CLIPS4SALE HERE!)
I hope that you are enjoying your weekend so far! I have a boat ride and late brunch on the intercoastal waterway planned for this afternoon. However My Niteflirt phone and chat lines will be on per My regular schedule.