Sissy Feminization Stripping away your masculinity
As I have been reiterating recently, I particularly enjoy emasculating males. Breaking down their male egos and changing the male thought patterns and way of thinking. I have found that breaking a male down is the way for him to serve totally and completely. I can accomplish this in a variety of ways!
Sissy Feminization
Lately I have been speaking to you about your castration. However, this is not the end! Oh, no! It is the beginning of your feminization, your sissification and complete transformation! The changes that take place will strip away your masculinity…hormone therapy, corset training, high heel training, castration, wearing those stockings, bullet bras and feminine wardrobe, decreasing libido…Oh, you won't be masturbating several times a day! Your masturbation will now be under control…MY control! Orgasms? Not anymore! After all, orgasms are for REAL men and REAL women!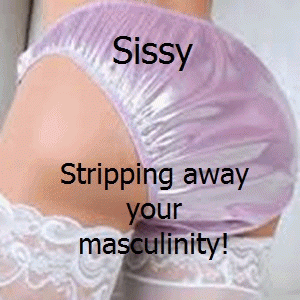 Sissy Stripping Away your masculinity $8.99

 Call Me on Niteflirt for your complete emasculation and feminization!