Femdom Hypnosis Dream State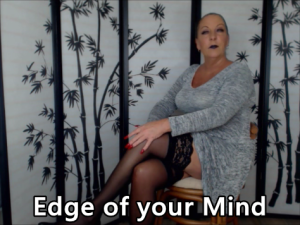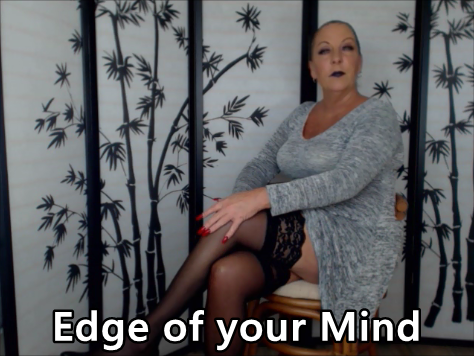 It is a rainy windy morning as we wait for the hurricane to make landfall and then pass. So obviously I am home for the day and taking calls as well as available for chat. My new Femdom Hypnosis Dream State video features mind control using My triggers of black lace, finger snapping and of course My seductive voice imprinting that My voice will ALWAYS be on the edge of your mind!
Also I am available for custom audio files. I have provided all the details at the end. It is simple and easy to do!
~ NEW ~ Femdom Hypnosis Edge of your Mind 
As I bring you deep into hypnosis and I take you further down into dream state. All of My hypnotic suggestions and triggers have conditioned you. I snap My fingers for you to open your eyes however you will remain in dream state. Waves lulling you just as My voice does. Goddess says you will feel Her voice at the edge of your mind at all times. It is so exciting feeling My control and My influence at all times. As you listen to My voice becoming consumed in a deep dream state you are feeling so helpless and so very vulnerable and triggered by so many things. Triggered by My voice, My long red nails and the snap of My fingers, black lace. Many times a day you WILL feel Me at the edge of your mind influencing your thoughts, desires and actions. As you go about your everyday life I AM imprinted in your mind! Featuring Femdom, hypnosis, finger snapping, Femdom hypnosis, dream state, long red nails, stockings, black lace, ownership
One of the questions that I am asked every day is what files I recommend so in My emails I high light some of My favorites as well as My recommendations.
This video features My seductive voice, elegant hand movements and cleavage front and center to hypnotize you. Using a countdown and taking you deeper as your eyelids get heavier and heavier until they are closed and you are in a deep state of hypnosis. I put you deep under, bring you back out and drop you back into hypnosis. Each time setting you up to go under deeper . My mind manipulation continues in this video ensuring you go deeper every time you hear My voice and I put you under.
Mind Control Power of the Pendant
As My voice relaxes you and flows through your mind, you sink down deeper and deeper. My hand gestures mesmerize you as you gaze at the pendant. The sparking pendant resting between My stunning breasts. Each hand gesture, each time the light catches the pendant you go deeper. But My pendant is SO powerful! As I take you deep into trance I am conditioning you to become so aroused each time you see My pendant. The pendant making you so hard! So excited that you have to stroke! My cleavage peeks through My tight top ensuring your eyes stay focused! Featuring Femdom hypnosis, trigger response, mind manipulation, cleavage, masturbation guidance
There is nothing I enjoy more than manipulating your mind! I derive such pleasure in implanting triggers and then imagining what happens to you when it is activated. THIS is the basis for this particular recording. I know that you have been so curious about cock. That curiosity has grown and grown. Now you have become addicted to cock. But I want even more control. I want your hunger for cock to be triggered many times a day! Which is exactly what this recording and My trigger will do to you. Featuring Femdom hypnosis, mind control, trigger, trance, addiction to cock
My voice flows through your mind with each hand gesture. Taking you down deeper and deeper as the light reflects off My pendant. Conscious mind taking a rest. Subconscious mind absorbing all that I say including your new trigger. Goddess says. Goddess says you will obey. Goddess says you will submit. Reiterating and imprinting the new trigger deep in your subconscious! Getting weaker and going deeper! Featuring Femdom hypnosis, mind control, hand gestures, trigger, imprinting
Goddess Says..Give into the Pendant 
Red lipstick, long red nails, My captivating cleavage as well as the pendant are all featured in this mind control trancing video! Goddess says you will give in to the pendant. Going deeper. Goddess says you will surrender. Goddess says you will submit! It feels so good to follow Goddesses commands and to give in to the pendant. As the pendant swirls, your thoughts swirl, filled with servitude. Filled with submission. Goddesses seductive voice tells you your thoughts are being erased and you ARE being reprogrammed. Unable to resist because Goddess says. Giving in to Goddesses voice. Giving in to the swirling pendant! Featuring Femdom, mind control, trancing, Femdom hypnosis
I know you so enjoy speaking with Me live but sometimes we just can't connect! So I would enjoy controlling and manipulating you with a custom MP3 audio recording! Contact Me after purchase for content details!