Corporal Discipline Whipped
Outdoor Corporal Discipline
A good example of Corporal Discipline is in One of My CLASSIC Goddess Natasha videos called Whipped. I truly enjoy outdoor play and especially tying a submissive to a tree and corporal discipline.
While I have played outdoors quite often, this is the ONLY one I have ever recorded….hmmm, not sure why but that can be changed in the very near future. Unfortunately, with the growth of Florida such lovely scenes are limited because so much forest has been built on.
Whipped!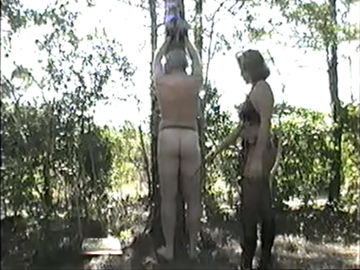 Dressed in a three piece (bra, thong, garter belt) black and red latex outfit with stockings and boots I am ready to train My slave. he is taken to the woods and doesn't know what awaits him! slave has been locked in a belly iron complete with ball & chain attached which he is required to wear at all times!
After attaching wrist restraints My slave is commanded to stand against a tree and chained to it with his arms overhead. I use a variety of implements beginning with a riding crop to warm up, moving on to a 12 string leather whip and finishing with a good amount of time with a bullwhip. I allow My slave to kneel before Me and he is granted the privilege of licking and polishing My boots!
The second scene is back at My dungeon where another slave awaits Me, restrained to the X-Cross, masked and gagged. He, too, experiences a variety of implements meant to punish! First, a leather strap across his ass, then an especially wicked knotted rope whip. I move on to flog his back then use a riding crop, strap and make sure I have his attention by digging My nails into his nipples. Lastly, I use a horse hair whip that is especially effective!