Big Cock Goddess Natasha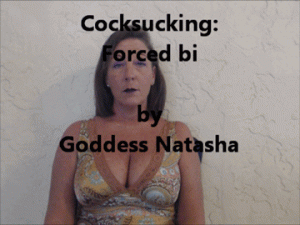 My new audio file is all about big cock..and how much you crave it, need it and must accept it!
I know that you have tried again and again to stop. Stop watching porn. Stop searching for big cock. Stop looking at big cock. Stop masturbating to big cock. Stop craving big cock. Maybe you were able to stop…but not for long. Now the craving is back stronger than ever. Stronger than it was before. It is time to accept that you aroused by it. Admit and accept that you crave big cock. Admit and accept that this IS what makes you hard.
Today's SPOTLIGHT File
I so enjoy bi play! But there is nothing as erotic as seeing you get a rough pounding by an extreme size cock. Of course who has the biggest? Oh big black cock of course. I will be choosing a very special one for you. A monster cock! I am sure you know the ones I am talking about. It makes you wonder if they are real! I WILL have a monster cock to use you. To see you destroyed. To see you broken. Seeing you completely ruined as tears run down your face submitting to My desire to see you take a big black cock would please Me so much. Watching and enjoying your humiliation as you kneel completely broken at My feet
I am so pleased with how obedient you have become and so enjoyed learning every deep, dark desire you have! So eager to serve and please ; unquestioning and blind obedience! I can see how excited you are by the thought Goddess wants to play with you! Now you see the warehouse we are in. Quite empty except for video equipment, a computer and My infamous breeding bench! As I dress you in a thong and thigh high stockings I begin explaining exactly what is going to happen to you! Then you are tightly restrained to My breeding bench, legs spread, head down, ass up. Before you know it all you can see is naked black men and enormous cocks! The click of the camera is the next thing you hear before all you can see and feel is black cock!
What could be more embarrassing? A beautiful Mistress dressed so seductively as you make your cock confessional! In a revealed dress complete with stockings and high heels, I sit casually on the couch and begin to pry into your life with all sorts of questions! After all, you want Me to know you don't you? I want to learn every secret that you have and every shameful secret. It is time to confess it ALL. By the end I will know every detail from when you watched your first gay porn, how you felt and how your erotic obsession with cock has grown! Especially the obsession with BBC ! you WILL confess all and admit to exactly what you are!
Cock sucking Enforced Forced bi 
I want you to look into the camera right into My eyes and say "I am a cocksucker". A night out with Me will be one you will always remember! Where will I be taking you? Oh a variety of places! A sleazy adult movie theatre where the men are sitting with their pants unzipped and their cocks out just waiting for a cocksucker like you! The gay leather bar with a metal cage where you will kneel wearing My collar as I direct all the men to stand in front and stick their hard cocks through the bars. The night is just beginning!