BBC Forced Bi Goddess Natasha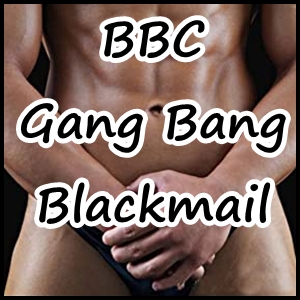 By now I am sure you know that I find the emasculation of forced bi BBC particularly erotic. There are so many scenarios that I find exciting including how BBC can influence your sexual desires!
It all started as a harmless fantasy while you watched porn. While watching vanilla porn eventually your eyes and interests strayed to cock. Then progressing to gay porn, then BBC porn. All harnless. That is what you kept telling yourself. Stroking to all that cock, fantasizing as you watched and then unable to resist cock. That big black cock that brings so much pleasure. The time came when you HAD to experience it telling yourself it would just be that one time. Just to try it. Just to see what it would be like. But all it took was that one time of sucking big black cock. Now it is all you can think about. Now it is all you want.
Today's SPOTLIGHT File
By now you should know where your place is! I know that you white males try and pretend. Pretend that you are real men But all you have to do is turn on that BBC porn and you turn into a cocksucking bitch for BBC! I know that you aren't watching those Women! By now you know that you can't satisfy them. By now you know you can never put that look on those Womans faces! Not a chance! That is just one of the reasons that you can't look away from that cock. As you watch and lust after it all you can think about is wrapping your lips around it! On your knees, begging for that BBC! Yes I believe that not only should you beg for the privilege of serving BBC, thank them but PAY for it! What could more emasculating than that?? Featuring Femdom, humiliation, emasculation, cock worship, big black cock, pay for gay, white male humiliation, sexual inferiority, BBC forced bi (AVAILABLE HERE ON CLIPS4SALE)
I so enjoy bi play! But there is nothing as erotic as seeing you get a rough pounding by an extreme size cock. Of course who has the biggest? Oh big black cock of course. I will be choosing a very special one for you. A monster cock! I am sure you know the ones I am talking about. It makes you wonder if they are real! I WILL have a monster cock to use you. To see you destroyed. To see you broken. Seeing you completely ruined as tears run down your face submitting to My desire to see you take a big black cock would please Me so much. Watching and enjoying your humiliation as you kneel completely broken at My feet (AVAILABLE HERE ON CLIPS4SALE)
I am so pleased with how obedient you have become and so enjoyed learning every deep, dark desire you have! So eager to serve and please ; unquestioning and blind obedience! I can see how excited you are by the thought Goddess wants to play with you! Now you see the warehouse we are in. Quite empty except for video equipment, a computer and My infamous breeding bench! As I dress you in a thong and thigh high stockings I begin explaining exactly what is going to happen to you! Then you are tightly restrained to My breeding bench, legs spread, head down, ass up. Before you know it all you can see is naked black men and enormous cocks! The click of the camera is the next thing you hear before all you can see and feel is big black cock! Featuring Femdom, BBC, gangbang, monster cock, BBC forced bi, breeding, forced bi, blackmail (AVAILABLE HERE ON CLIPS4SALE)
There is nothing quite like servicing BBC! They just love showing you their cock superiority and how you are just a hole for them to use. A means for THEIR sexual satisfaction! So aggressive as they use you not caring anything for your sexual satisfaction. Dominant as they face fuck you without mercy. Listening to you choke and gag as they force their big black cock down your throat just excites them more! That is what you are there for! (AVAILABLE HERE ON CLIPS4SALE)
Have you ever experienced a take down? The take down that I have planned for you is going to be humiliating, emasculating as you end up as a fuck toy for BBC. This is going to happen swiftly and will take you completely by surprise! It is not enough for Me that you will be over powered physically but verbally you will be humiliated as I explain exactly what is going to happen to you…as those with the superior big black cock call you their bitch and use you for their sexual satisfaction. I won't be satisfied and this won't end until I look in your eyes and see that you are completely broken! Featuring BBC, BBC forced bi, emasculation, bi (AVAILABLE HERE ON CLIPS4SALE)