Tag Archives:
fetish
My new fetish mp3 recordings have kept Me very busy this week! There always seems to be alot going on both real time and online! I have had a number of submissives from out of town here to serve and have also been busy recording new files.
As you know My recordings especially My fetish MP3 recordings are very popular and once again I have had three of the top recordings on Niteflirt! These top three are Life as My Wife, and two of My shocking series Mind Control and Stockings and Stilettos! My top video this week was Fantasy of your Life which is not a new release but there has been quite an interest in it.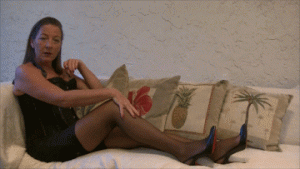 Reclining on My couch with a sexy black corset, very short skirt, thigh high stockings and high heels, I know all about your fantasy. Yes, this fantasy of your life where you imagine serving Me. You imagine submitting to Me. In your imagination, you leave your boring vanilla life behind and surrender. Oh yes I know. you spend a lot of time fantasizing about what your life would be like serving Me. you call Me, listen to My recordings and buy My videos…all the time imagining what it would be like to completely surrender to Me.
This week's Fetish MP3 releases!
Tell Me again how much you love big cock! Bigger is better! That's your motto! I know your hands start to sweat and your mouth waters when you see those big, thick delicious cocks! Now repeat after Me…you are queer for cock! Featuring humiliation, Femdom, verbal humiliation, emasculation
In nature domination is most often established by sexual aggression. This type of sexual aggression for Myself takes place in the form of strapon submission. Furthermore this exertion and reflection of My dominance is so erotic to Me! When I take you there will be no doubt who is in control, who is dominant and who is the submissive! Whenever I chose and for whatever reason, I will be deciding your position, which strapon , how hard and how long it will last! The emasculation as well as the psychological effects on you is what interest Me! With this act not only will I be exerting My power and control but also My sexual dominance.
These are 30 minutes fetish mp3 recordings that highlight one of My favorite activities. ~ erotic bisexual action Two videos and two audio files.
Part of your cock sucking training will be throat training. This training will allow you to be deeply and thoroughly throat fucked. I am so going to enjoy seeing you throat fucked! This aggressive deep throat fucking will bring tears to your eyes and yes, you will be gagging. One of My favorite postions is you on your back as I sit on your chest with your head hanging over the couch or bed! As a result you will be helpless and vulnerable your throat wide open for every thrust! There will be no doubt that you are My bitch after you have been brutally throat fucked! Watching you being throat fucked is just another way for Me to exert My dominance and control and reinforce your submission! An extremely erotic fetish mp3 recording!
The craving you have for ownership is becoming stronger and stronger. The need and burning desire to belong to Me is growing more intense with every passing day. Furthermore, realize that you cannot be happy or content until you surrender and become Mine! I knew long ago that it was only a matter of time. After all, you were meant to be My slave, meant to be owned!
What a very busy week it has been! The new files I released shot straight to the top! I also had some fantastic calls! I think everyone has been staying inside and hiding from the heat!
Revelations of The Goddess Worship Group was on the marque and a hot file for most of the week! Glory hole submission was also VERY popular and My latest in My SHOCKING series was highly rated!
My SHOCKING Series of recordings that I WANT you to have are still going strong! This series of Fetish Femdom recordings will be continuing!
Out of the three so far the Mind Control has been the most popular although My Chasity Files and Orgasm Control were close behind!
This weeks Fetish Femdom Recordings!
SHOCKING Stockings and Stilettos 
Seven YES seven of My stocking and high heel videos! These erotic fetish and worship videos total almost an hour of stockings, thigh highs, corset and stilettos as well as orgasm control! Oh, I know exactly what I am doing! As with all of My Shocking series videos these are designed to bring you even deeper into submission! After all, what male doesn't become weak at the glimpse of stockings and the sound of high heels?? I WANT you to have these to deepen your adoration and devotion!
There are so many ways for you to amuse Me! One of them will be engaging in some VERY risky behavior at the glory hole. On These trips we take you will ALWAYS perform bareback! That is just one of the rules I have. Another is that you will submit to ANYTHING that I or the males desire! No matter how degrading. No matter how perverted. No matter how twisted. Whatever you are told to do you will do. Whatever deviant behavior I want you to engage in, you will. Of course, the more humiliating and twisted, the more I will enjoy it! This will be complete glory hole submission!
By now you are aware that I play often with shemales! My gurlfriend Sheila would be sooo thrilled to assist Me in controlling and dominating you! Just remember you will submit to her just as you submit to Me! She can be VERY dominant after all she has a hard 10 inches to control you with! BUT she is submissive to Me so there are all types of games I can play with the two of you! Submitting to her 10 inch cock…I can't wait to see the look on your face as her panties come down! Watching as it grows and thickens in front of your face!
Know that your patronage, ideas and suggestions are so very much appreciated! Also if you purchased anything lately your feedback is so beneficial to Me and I am so thankful when you do so! It is so encouraging when I get to read your comments!
Have a terrific Sunday!
Wickedly
Goddess Natasha
Visit Me on Niteflirt to learn more about My Fetish Femdom Lifestyle!