Fetish Videos and Photos
As I am sure you are aware by now, I spent last week with a submissive serving Me and acting as My photographer as well as filming Femdom and fetish videos!
It was such a fantastic week and as this particular person is one of My favorite people, I had a wonderful as well as a productive week! Everything from shopping, to foot massages, pampering, dining out, cocktails and more!
So now the editing of all the Fetish photos and Worship videos has started! It is quite a bit of work but I am enjoying seeing what we accomplished and how they turned out! So in the upcoming days I will be sharing details and images on My latest fetish videos.
Fetish Videos
The first of My new fetish videos feature lots of new panties! Shopping at Soma (one of My favorite lingerie stores) I have 6 new pair of panties! Let Me show them to you as I slip out of My dress. I have on a white lace push up bra and a pair of sheer white panties that are quite revealing! Then I begin trying on some on My new thongs for the camera! The thongs are different colors and I know that you would just love to have a pair of them from Goddess! CLICK HERE TO Download this panty fetish video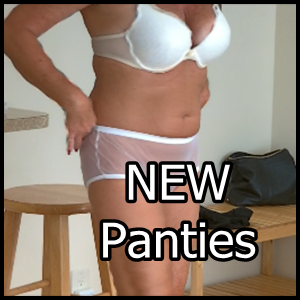 Who doesn't have a panty fetish? As Women we enjoy wearing sexy panties and lingerie knowing just the effect it has on males! In addition what is more fun than going shopping with a slave as he carries packages and patiently waits as we make Our choices?  The Scent of Goddess's Panties is an erotic and sensuous way to worship! I find it exciting when I send out a Worship package knowing that one of My submissives will be receiving and worshiping My personal items such as stockings, panties or shoes.