Tag Archives:
gay reinforcement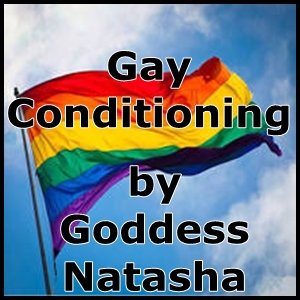 I hope that you had a great week! Our summer weather has set in with clear beautiful mornings and afternoon thunderstorms. My schedule will soon be reflecting these changes!
However for now My phone and chat lines will continue to be on per My regular schedule.
One of the things that I find so emasculating and exciting is the idea of  Femdom making you gay and sexual manipulation!
~ NEW ~ It's okay you are GAY! 
I know that you have so many conflicting feelings about your cock sucking. For so long you have hid craving for cock. Deep in the closet and not wanting anyone to know what you really are. Hiding that need you have for cock and it never goes away! For awhile you told yourself it was just a phase. Telling yourself that you were just exploring your sexuality. Convincing yourself that is all it was and everyone explores. Then after all that cock sucking, all that cum you swallowed eventually telling yourself that you were bisexual. Again convincing yourself that is all it was. But I know the truth. The truth is you ARE a faggot. The truth is you crave and need cock. The truth is you want to bend over and being treated like a faggot. Now it is time for you to admit it. Accept that you are faggot. The cock sucking, the glory holes, the meet ups are all okay! It is all okay because you are a faggot and that is what faggots do! It is all okay because you are GAY! Featuring Femdom, making you gay, gay reinforcement, faggotry, gay acceptance, faggot reinforcement
Today's SPOTLIGHT File
As you know by Goddess always has a plan! Now you did not think I was going to stop at forced bi did you? That may have been what you first thought but I am ALWAYS ten stops ahead of you! As with everything I do I will keep pushing you to the extreme! So subtlety you don't even realize exactly what I am doing or what is happening to you! Featuring Femdom, gay conditioning, emasculation, gay reinforcement, pussy free, sexual manipulation
When a beautiful, superior Dominant Woman such as Myself calls you names it is particularly emasculating. Especially the name faggot. How manipulative and cruel to call you a cum eating faggot when I have trained you to BE one. One day I will hold your face firmly, look you in the eye and call you MY cum eating faggot! Featuring Femdom making you gay, faggot reinforcement, humiliation
So there you are a little dick white boy taking a shower at the gym! It doesn't escape your notice that there are five black males in the shower. Muscular black males that are well hung and your eyes keep straying to their cocks. One of them drops a bar of soap and order you to pick it up. When you crouch down and look up you are face to face with a big black cock. Ordered to suck it in no time you feel something hard against your ass. Laughing and jeering one after another use you as their bitch.
It becomes more apparent each day and every time you masturbate that you are NOT straight! Oh you try telling yourself that you are just curious; that this is just a phase. But that is NOT the truth! It isn't Women that you lust after! It isn't Women that fill your masturbatory fantasies! No, time and time again you lust after men! Time and time again you crave cock! It's men that you want; its cock that you want! I KNOW that you will get so much more attention from men! Far more than you have ever gotten from Women! Women sense it, Women know it and men do to! It's time to stop deluding yourself and live gay! Featuring Femdom, making you gay, pussy free, bottom, humiliation, Femdom making you gay
I know that you are not bi, not bi curious! At least not anymore! NOW you are a full fledged faggot who only thinks about cock! This is NOT a phase, NOT a fetish! I know what your true calling is! I know that your true calling is to be a cock sucking, cum swallowing faggot. Nothing makes Me happier than knowing you are accepting that you ARE a faggot and knowing that you are at gay bath houses, adult book stores and gloryholes being used! Featuring Femdom, faggot reinforcement, gay conditioning, cock craving, faggotry, faggot lifestyle, Femdom making you gay
As time goes on you ARE becoming more and more of a faggot. So addicted to cock and craving cum. The thought of having sexually intercourse with a Woman is not something you even think about! All you can think about is being used, being face fucked and throat training! As your throat burns with precum you still crave MORE! More cock! More cum! Go ahead. Say it. I am a faggot. Featuring Femdom, humiliation, cock addiction, depraved, perversions, throat fucking, skull fucked, pussy free,Femdom making you gay