Tag Archives:
boot worship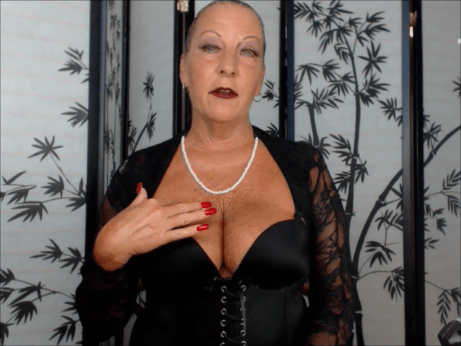 It is Worship Wednesday and the perfect day to release My new video Big Boobs Super Stupid!
~NEW ~ Boob Stupid to Big Boobs Super Stupid 
First there is making you boob stupid! I know just the effect that My allnatural 36 C breasts and cleavage have on you! I know that you cannot resist a worship video where My breasts and stunning cleavage are high lighted! I know you imagine seeing Me…perhaps beach volleyball in a bikini, or sitting across from you smiling as I watch every thought of yours being erased except the site of My breasts. The more videos you watch, the more you listen to My voice the more boob stupid you become! Everything from My breasts, My face, My voice moving from boob stupid to super stupid! Featuring Femdom, manipulation, all natural breasts, big boobs super stupid, cleavage, worship, smoking
Today's SPOTLIGHT File
Goddess does have such a beautiful ass! Just look at the perfect round curve! Come closer! See just how perfect it is. Bury your face! Lick and suck, of course swirl your tongue and worship. VERY EXPLICIT ass worship instructions!
Dressed in a tight fitting red dress, black stockings and black leather pumps I enter the room showing off My latest pair of sheer black patterned stockings. They are so soft and so sheer and the pattern high lights My legs and ass as the camera roams. Stroking the stockings I engage in some high heels dangling and then slip out of My dress. The cleavage enhancing push up bra and stockings with high heels are perfect for admiring. I stand and turn showing off every angle. Then I stand and walk over to an easy chair. I am so enjoying these black patterned pantyhose! They are so soft and smooth AND sheer! Look at My beautiful black leather pumps! Do you see how well worn they are? I show you the inside where you can clearly see the outline of My beautiful size 6 foot! As a matter of fact BOTH of these high heels are deliciously well worn! Hmmm.maybe it is time for a new pair! These well worn leather pumps will go to one very lucky male!
Dressed in a tight black lycra dress which highlights My 36C breasts and short enough to give glimpses of My panties, I show off My thigh high boots! My makeup perfectly done, I give you instructions of how I want My boots worshiped! No smudges on My boots! Of course you will be sucking on the heel. Maybe even while I lie on the couch as you kneel and suck!
I know that you are fascinated and envious of Goddesses beautiful breasts! Yes, you do have a case of breast envy! How could you not? Especially in this new bra that shows them off perfectly! I know you think about how much you want to be and look like Goddess with My makeup, lipstick, gorgeous figure and yes My all natural 36C breasts!
Boot Worship You can't take your eyes away from My boots, can you? I can see your arousal. Your bulging cock gives you away. It is so hard and full of desire. It betrays your need to worship My powerful, black leather, high-heeled boots. All the better that they go to mid-thigh. Almost more than your needy eyes can absorb. Gorgeous and Powerful. You are aching to kiss them, to lick them, to suck the leather, to worship these boots. you will do anything to be a boot worship slut, won't you?You cannot resist them. They call out to you and your hungry, perverted heart cries for them. But are you worthy? I don't think so. You know you are not. You are an inferior male creature unworthy to lick Mistresses boots. But your intense desire makes you prisoner to My boots. You want so badly to worship. Then beg Me. Get down on your  knees and beg for the privilege. Beg real hard, boy! Convince Mistress that She should allow your worthless tongue and lips to profane these glorious boots. If you grovel and beg hard enough She may permit you to slurp your filthy male mouth over this glorious and powerful leather. Crawl to Me on your belly and Beg! Very well then, lick the smooth leather with your dirty slave tongue. Slowly. Let your tongue absorb the taste of the leather. Let your nostrils inhale the heavenly odor. All the way from the instep to the very top of each boot. The fragrance of the leather is intoxicating. Get drunk on the odor and the taste. Rub your face and nose and mouth up and down the length of My boots. Purr like a kitty cat. I'll bet You would rather rub your face against the boot leather than against your girlfriend's dripping wet pussy. You are so hooked on leather.
A highly erotic tale of boot worship! $5.00
 Fully Dressed in Leather Video $5.00