Forced Smoking Fetish
Smoking Fetish
Forced smoking fetish is a truly enjoyable way to feel intimate with a submissive. As many of you know I thoroughly enjoy smoking. I especially enjoy smoking during a scene with slaves and sharing My smoke with them, using them as ashtrays or other forms of smoking fetishism. There are many of you who can't wait until My next smoking video comes out! Whether it is combined with shoe dangling, worship or just Myself blowing smoke into the camera, you just can't seem to get enough!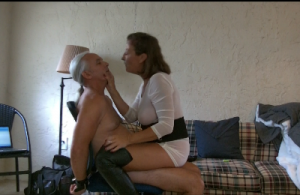 Click Here for a preview of this hot forced smoking fetish video
Forced Smoking Fetish
First restraining My slave's arms behind him as he sits in the chair, I tease him by blowing smoke in his face after I light a cigarette. Then straddling him on the chair I play with his nipples before I begin forcing smoke into his mouth holding his face tightly. Using My nails I tease and play with him alternating between painfully using My nails on his tender nipples and using them gently. Listening to him moan in pain but he is still so very aroused…dripping in fact. Of course, I make him lick his precum off My finger. I stand up and again use My nails to tease him but this time using My long natural nails on his cock and balls. More precum? Lick it off My finger!
This video features bondage, smoking, forced smoking, forced smoking fetish, nipple play, CEI, nail fetish, scratching, domination and plenty of teasing and tormenting.
Format: WMV
Length: 9 Minutes
Download this hot Forced Smoking Video at Clips4Sale $10.99
Click Here for all of My FemDom and Fetish Videos in MOV Format for MAC users