Complete Feminization My wife!
Complete Feminization
It has been so exciting and thrilling making you My wife! The complete feminization and transformation with testosterone blockers, female hormones and all those things that are making you so perfectly feminine! Especially the lip enhancements that have given you full, plump lips…perfect for wrapping around a nice thick cock! As a matter of fact, since things have progressed so nicely, I have decided that it is time to pick out a boyfriend for you! After all, every gurl needs a boyfriend!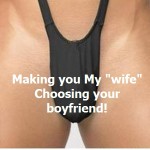 CLICK HERE for Choosing your boyfriend
How exciting! I have chosen your boyfriend and is he HOT! I have met with him and interviewed him and most importantly have seen his cock! Guess what? It is time for your first date!
! I know just how I am going to dress you! First black silky panties, sheer black stockings with a sexy garter belt and a push up bra. Then a LBD. You know Little black dress that fits you nice and tight showing off all your newly acquired curves! To top it off a pair of stiletto heels maybe strappy sandals! Of course, I will be taking a lot of photos of you all dressed and ready for your first date. Oh, I won't be far away, watching and instructing you in seducing him!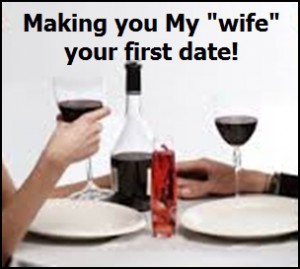 CLICK HERE for your first date!
Have you missed any of My ideas and fantasies for Making you My wife? I have so many such as My bimbo wife, Transforming you into My 50's Housewife, Making you My HOT wife. That is just a few of My fantasies! There is so much more and I think about it almost daily! Is this one of YOUR fantasies? Do you wish you could submit to Me and with My control and Dominance become the perfect wife?