Tranny Heaven! Saturday night!
It's a sexy Saturday and tonight I will have one of My sexy shemale girlfriends hanging out with Me! We will be going out for drinks and dancing later tonight and I can't wait!
I find shemales soooo sexy..so uninhibited and I would love to be in control of a hot shemale scene with you one day!
In the meantime, I have an almost 30 minute bundle of shemale fantasy for you! Don't miss it!
Have a great Saturday night!
Wickedly
Goddess Natasha
This weekend ONLY is these four hot Shemale Tranny recordings! Close to 30 Minutes of Sexy Shemale action for only $25! I so enjoy those chicks with dicks and I know you do too! One day I would love to orchestrate a scene with you and them!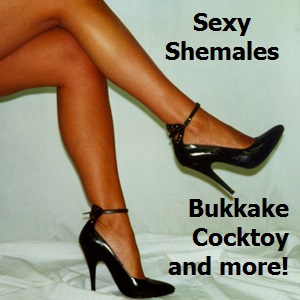 Tranny Heaven
ADDICTED TO SHEMALE PORN: I know that you have tried and tried to stay away from shemale porn. Maybe you were even able to do it for a day or even a week. But you return to it again and again. you just can't help yourself, can you? you are addicted to shemales. Addicted to those cocks, addicted to those pretty faces, beautiful breasts and tight asses! you think about cock where ever you are…at the gym, a bar, alone in your bedroom and even when you are with a Woman! (Audio MP3 File 6 Minutes 15 Seconds)
SHEMALE BUKKAKE: An erotic shemale fantasy! Your fantasy is about to come true! More sexy shemales than you know what to do with. It is going to be one HOT night! I will be in charge! Come with Me. Look at all those naked, writhing bodies. All those hard shemale cocks just waiting for you and all that hot shemale cum ready to soak you! I will be rubbing your cocks together. Doesn't that velvety hard cock feel sooo good rubbing against yours? All these chicks with dicks with hot cum just waiting for you! (Audio File MP3 Over 7 Minutes)
SHEMALE FAGGOT: Another HOT and SEXY shemale adventure! Here we are again…as you fantasize about all those shemale cocks! You just can't' get enough! You dream night and day about those sexy transsexuals. Their hard cocks using you, using your mouth and using your ass! Those chicks with dicks fucking your face and pounding you…pounding your ass. Go ahead, lay on your back and pull your legs up. It's time for you to be used! (Audio File MP3 Over 7 Minutes)
SHEMALE LOVER A ROOM FULL OF SHEMALES: Oh, I know another one of your secret fantasies…I know all about the way you desire shemales! The sexy shemales are all waiting for you! You feel your cock getting hard…chicks with dicks…tranny…you love the way that sounds! You need more and more shemale cock. There is a door in front of you and right beyond that door are hot shemales just waiting for you. An invitation as you walk through. The music is pulsing and you look around and the lady boys are just waiting for you…waiting for your cock, waiting for your mouth! (Audio MP3 File Over 7 Minutes)