Top Ten Fetishes by Goddess Natasha
There are quite a number of studies and polls online that list the top ten fetishes and I always find them very interesting. It is fun to read them and see where My fetishes (yes I have a few) rank if at all! In addition, it is interesting to read about unusual fetishes or fetishes that I may have never heard of! Trust Me there are quite a few but I imagine with enough time I could find someone that is interested in every one of them!
Since I interact with many people through Niteflirt, online training as well as real time interaction I thought it would be interesting to do My own top ten fetishes based on My personal experience! Now this is not a scientific study by far and as I said it is based on My personal experience over the years. It will certainly be a bit bias since the people who contact Me are interested in the same things I am!
That being said below is My personal top ten fetishes in no particular order. In the upcoming posts, I will be expanding on each one. Enjoy and I would love to hear from you and you can tell Me your fetish!
Top Ten Fetishes
Foot Fetish
High Heel Shoes and Boot
Orgasm Control and Chastity
Smoking
Feminization
Leather, Rubber, PVC
Spanking
Foot Worship
Pantyhose
Stockings and Garter belt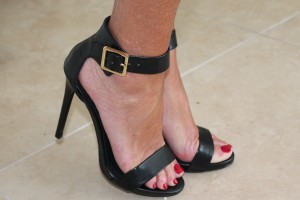 The picture actually reflects two of these fetishes if not three! One would be a fetish for high heels which I share with many of My submissives and admirers. Two would be a foot fetish as these particular pair of high heels show off My lovely size six feet. Three would be foot worship since the sight of My feet in them compels those serving Me to want to worship My feet in submission and servitude.