Pantyhose Fetish~Soft and Silky
There are so many people who have a pantyhose fetish! I for one enjoy the soft, silkiness of a quality pair of pantyhose. Also the sight of a Woman with no panties wearing a pair of pantyhose is quite erotic!
Because of My pantyhose fetish I film a lot of videos with pantyhose and also take a lot of photo sets. I have a number of generous submissives who visit My Amazon Wish List regularly so that I receive them on a regular basis. Just recently I received two pair and made two seperate videos show casing each pair.
Pantyhose Fetish Videos
Pantyhose Fetish~NO Panties Preview it Here
This is perfect for those who enjoy nylons and the image of no panties! The sweater dress is quite short and also shows My beautiful cleavage off nicely. I stroke these very soft, silky pantyhose that are VERY sheer. The camera roams My body from head to toe with plenty of close ups of My cleavage, stocking clad legs back and front views! This is a very erotic and revealing video shot in high definition where My tan lines are clearly shown!
This second pantyhose fetish video clearly shows the sheerness of the stockings!
Stockings High Heels Lace Dress Preview it Here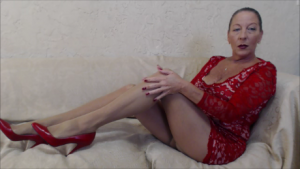 There are just so many elements to worship in this video! From the cleavage showing red lace dress, the silky sheer stockings, red leather pumps, red lipstick and My long red natural nails! Hear the whisper of My stocking clad legs as I stroke with My lovely hands. Then informing you that I am NOT wearing panties  slip out of My dress and you are further able to worship My beautiful breasts and My soft stockings!
These two pantyhose fetish videos are just an example of one of the many fetishes I enjoy! If you have a particular fetish and you would like a custom video, feel free to contact Me!