Emasculation Castration Goddess Natasha
I have always found emasculation such a powerful and erotic tool to breaking a slave  You will notice I said BREAK a slave NOT break in a slave. There is really quite a difference! All of the steps including crushing your male ego to bring you to heel and My way of thinking. This is one of the reasons I speak about it often and record many of My thoughts and ideas! Of course the final and complete emasculation would be castration.
Emasculation Castration
These are My top most popular recordings on castration and emasculation including My video Castration Tools!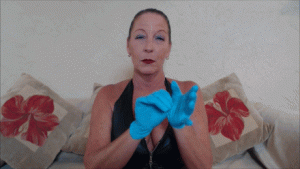 Dressed in cleavage baring leather top My make up done perfectly with red lipstick and red painted long natural nails, I am very eager to show you My new castration tools. I am so excited! New Castration Tools are arriving and I am so eager to show them to you! Latex gloves, scalpels, an extremely well made burdizzo and an elastrator. Slipping on a pair of latex gloves I test the sharpness of My scalpel. Then the elastrator which means a slow and painful castration. Then the piece de resistance…the burdizzo! Brutal! I am preparing for your emasculation castration (PREVIEW HERE)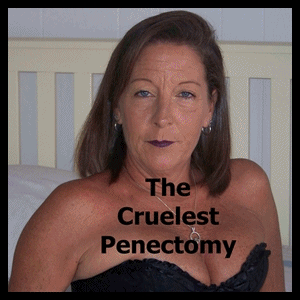 I have decided that you will undergo a penectomy. But not an ordinary penectomy. That is not cruel or sadistic enough for Me. I want to prolong it as long as possible making it as sadistic as I can! I don't want this to be a one time procedure. First I will have a set of rings tattooed on your cock. Then one ring at a time will be removed. Are you beginning to get the idea? This will truly be the cruelest penectomy! (PREVIEW HERE)
you will spend the day gazing at the gelding bench and I will explain to you the ritual that you will undergo. Restrained and helpless while other Women are witnesses to your pain and suffering! your balls will be removed as there is no use for them. your emasculation castration will ensure your masculinity is stripped away. (PREVIEW HERE)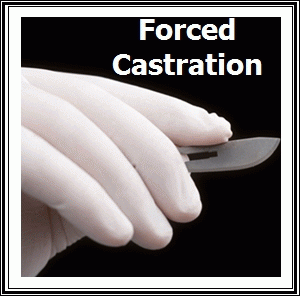 This fantasy of yours to be castrated has been so strong for so many years. Thinking about it, imagining what it would be like and what it would entail. Of course, in your fantasy your castration has always been performed by an attractive Dominant Woman.We have talked about it for months now and you have begged Me, pleaded with Me to remove your balls. We have spoken often of your emasculation castration. I agree to meet you…the last thing you remember is knocking at My door. Now reality is setting in as you find yourself vulnerable and at My mercy. When you turn your head, you see the sadistic smile on My face and realize for Me your castration was not just a fantasy! (PREVIEW HERE)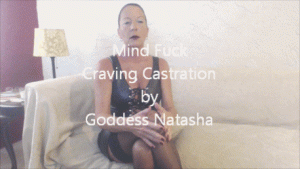 Dressed in a tight fitting leather dress, lace top thigh high stockings and black leather pumps, a relaxing induction takes you down very deep into a pleasurable trance in this latest video. While you are deeply relaxed I begin to tell you how much you want to be Mine, to be owned by Me and to please Me. You know that castrating you will make Me so very happy and please Me. Now the thought of castration will be so exciting to you, so very erotic. There will be no fear, just the craving to be Mine and to be castrated. (PREVIEW HERE)
Are you ready for your emasculation castration?